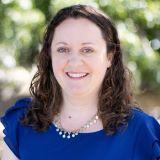 Director of Scholarships and Knowledge Management
Ellen joined our staff in October 2010. Ellen is responsible for coordinating the Foundation's Scholarship Programs and manages the Foundation's knowledge and database across all departments. As part of the Philanthropic Engagement team, Ellen works closely with Lupe to review and process grant recommendations from our Donor Advisors and provides stellar services to all of our Fundholders.
Before joining Napa Valley Community Foundation, Ellen spent 3 years sending students on study abroad programs as a Program Coordinator for the UC Davis Quarter Abroad Program.
Ellen is a native of the San Francisco Bay Area and holds a bachelor's degree in anthropology from Colorado College and Master of Philosophy degree in biological anthropology from Cambridge University, England.
When not at work, Ellen enjoys gardening, traveling and building Lego creations with her young sons.