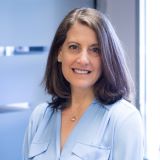 Lindy joined our staff in February of 2021. Lindy oversees the Foundation's fundraising and communications activities: working with individual and corporate donors to inspire contributions to our community impact areas; the creation of donor advised funds and scholarship funds; and planned gifts that honor the generous legacies of local givers.
In her role as Vice President of Development and Communications, Lindy staffs the Foundation's Marketing and Asset Development Committee.
Prior to joining Napa Valley Community Foundation, Lindy held senior level fundraising positions at the California State University Maritime Academy, the San Francisco Jewish Community Federation and the John Muir Health Foundation. A native New Yorker, Lindy is a graduate of Bryn Mawr College and holds degrees from Hastings College of the Law and North Carolina State University (management). She is currently pursuing a master's degree in history.
When not at work, Lindy enjoys tennis, yoga, reading, travelling with her husband, and cherishes visits from her grown children.