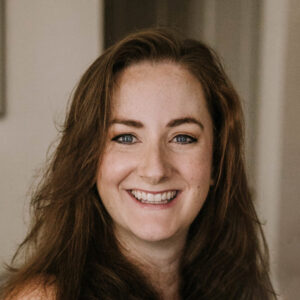 Senior Director of Communications and Marketing
Caitlin is a skillful storyteller whose job at the Foundation is to illuminate our purpose and progress. Her storytelling skills showcase the heart of the Foundation's work, reflecting our impact and influence on the wider community.
She developed a deep love of community service in high school, co-founded her first nonprofit organization at the age of 18 and is passionate about making the world better.  Caitlin studied political science at San Francisco State University while volunteering every weekend to cook and serve food for the homeless community back home in Santa Rosa.
In her previous role as the Director of Communications at the Community Foundation Sonoma County (CFSC), Caitlin played an instrumental role in raising over $25 million for disaster recovery initiatives.
She is a past member of the Board of Community Services for the City of Santa Rosa, co-founded a nonprofit community radio station and won the North Bay Business Journal "Forty Under 40" Award in 2017 for outstanding young professionals.
An inveterate nerd, Caitlin has been to San Diego Comic-Con nearly a dozen times, has hosted the Expansecast, a podcast dedicated to sci-fi television show The Expanse, and enjoys audiobooks, reading political non-fiction, science fiction, and the newspaper.
One of Caitlin's favorite quotes:
"Dedicate some of your life to others. Your dedication will not be a sacrifice. It will be an exhilarating experience, because it is an intense effort applied toward a meaningful end."
– Dr. Thomas Dooley