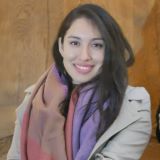 Grant Manager
Lupe joined our staff in January 2018. In her role, she supports the Vice President of Community Impact, the Senior Director of Programs and Philanthropy, and the Director of Scholarships and Knowledge Management with Discretionary and Donor Advised grantmaking, including: providing support to applicants and donors; processing grant recommendations; conducting due diligence; and, knowledge management with the Foundation's database.
Before joining Napa Valley Community Foundation, Lupe worked as the Administrative Assistant at Wolfe Center for Aldea Children & Family Services, a mental health nonprofit.
Lupe is a Napa native with roots in Oaxaca, Mexico. She holds a bachelor's degree in sociology with an emphasis in education from University of California Berkeley, and an associate's degree in social & behavioral sciences from Napa Valley College.
When not at work, Lupe enjoys photography, making earrings, traveling and salsa dancing.