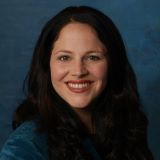 Vice President of Community Impact
Julia joined our staff in June 2010. Julia oversees the Community Foundation's grantmaking, including donor-recommended, discretionary, designated, endowed and scholarship portfolios and community impact grantmaking in the areas of: Invest in Youth; Fight Poverty; and Champion Community. Julia also leads the Foundation's community initiatives, which currently include: Housing, and the recently launched NapaSonoma ADU Center, which aims to create more affordable housing inventory by helping homeowners build and rent Accessory Dwelling Units; Disaster Relief, which currently includes relief, response and recovery efforts related to the 2017 Napa Fire Complex and the COVID-19 pandemic; and, One Napa Valley, which incubated integration and legal services for immigrants that want to naturalize.
In her role as Vice President of Community Impact, Julia staffs the Foundation's Community Programs and Grants committee.
Prior to joining Napa Valley Community Foundation, Julia was Director of Development and Community Education at Wolfe Center, a nonprofit behavioral health organization in Napa. Her work in the private sector includes marketing and promotions management at Bay Area radio and television stations. Julia was born and raised in Napa, has a bachelor's degree in communications (with an emphasis in journalism) from the University of San Francisco, and is a graduate of class 20 of Leadership Napa Valley.
When not at work, Julia enjoys participating in local community theatre with her children.