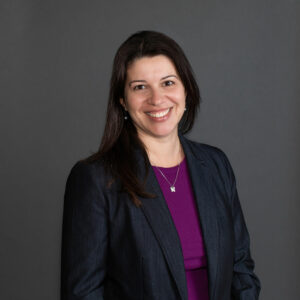 Senior Director, Programs & Philanthropy
Rejane (pronounced as "hey-johnny") is both our nonprofit community specialist and Donor Advised Fund/Legacy Fund stewardship leader. With her many years of experience in conducting, monitoring, and evaluation of social programs in Latin America and Asia, as well as having served as an Executive Director with a local nonprofit, Rejane brings vast knowledge and experience to her role.   
Since joining the team in 2015, Rejane keeps a pulse on the nonprofit community. By taking a deep dive, she learns about each nonprofit's needs and community trends they are addressing. That knowledge informs the best ways the Foundation and Donor Advised Funds (DAFs) can help tackle the most pressing problems Napa Valley faces.   
Working side-by-side with our DAF holders, Rejane gets to play "matchmaker" — helping donors make the best philanthropic decisions for their Fund(s) held at the Foundation while meeting the needs in the community. 
Rejane also works closely with the Stewardship Committee, an Advisory Committee to the Board that ensures that donor intent for Legacy Funds are executed with fidelity to our donors who are no longer living. 
Originally from Brazil and a naturalized U.S. citizen, Rejane holds a bachelor's degree from PUC-Minas in Brazil and a master's in International Affairs/Economic and Political Development from Columbia University. 
When not at work, you can find Rejane out and about on adventures with her daughter or exploring the world. Rejane speaks English, Portuguese and Spanish. 
One of Rejane's favorite quotes:
"You'll miss the best things if you keep your eyes shut." ― Dr. Seuss