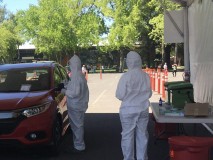 The Napa Valley Community Disaster Relief Fund is responding to the COVID-19 pandemic. So far, about $5.4 million has been distributed to provide emergency financial assistance to more than 1,700 local families and farmworkers, and help more than 25,000 Napa County residents with essential recovery services, like medical care and counseling,  groceries, hot meals, legal and housing assistance, domestic violence programs and support for seniors and people with disabilities. 
To learn more, read our press releases of March 12, 2020 here, March 20, 2020 here, April 7, 2020 here, July 15, 2020 here , February 16, 2021 here , March 18,  2021 here and September 24, 2021 here.
If you need assistance applying to the Housing is Key rent relief program, please contact our nonprofit partners below.
Renters
If you live in Calistoga, St. Helena, Yountville and surrounding areas, contact UpValley Family Centers at (707) 965-5010 or email efa@upvalleyfamilycenters.org
If you live in Napa or American Canyon, contact On the Move at (707) 277-2721 or email efa@onthemovebayarea.org
Landlords
More information at the flyer here.
To donate to these efforts, click here.
Napa Valley Community Organizations Active in Disaster (COAD)
In 2016, Napa Valley Community Foundation created the Napa Valley COAD, a network of more than 100 nonprofit, faith community and government sector groups whose mission is to improve coordination and communication before, during and after a disaster.  Napa Valley COAD is activated to respond to the COVID-19 pandemic in Napa County, and acts as a liaison in the Emergency Operations Center between local government and the nonprofits serving our community.  The Napa Valley Community Disaster Relief Fund supports the operations of the Napa Valley COAD and many of the disaster relief services provided by safety net nonprofits collaborating through COAD to meet unmet needs that arise.
Current second responder nonprofits receiving Napa Valley Community Disaster Relief Funds to provide immediate safety net services, include:
Aldea Children & Family Services
Community Action of Napa Valley
Community Resources for Children
Puertas Abiertas Community Resource Center
Additionally, Napa Valley Community Foundation has supported the County of Napa's Public Health Department to provide COVID-19 testing to uninsured and under-insured residents of Napa County who were referred for testing but cannot afford the cost of the test kits.
Check back frequently for more information as additional help becomes available.
About the Napa Valley Community Disaster Relief Fund
The Napa Valley Community Disaster Relief Fund is managed by Napa Valley Community Foundation and was established with a $10 million lead gift from Napa Valley Vintners following the 2014 South Napa Earthquake. So far, the Fund has distributed more than $25 million for relief and recovery from recent disasters.