Mariela Rivera-Moreno, an 18-year-old pre-nursing student heading to California State University, Chico, has always dreamed of going places. Born in Pennsylvania, raised for some time in El Salvador, and finally settling in Napa, Mariela has developed a passion for travel, learning, and giving back to her community. Her journey is now receiving a significant boost, thanks to a scholarship from Napa Valley Community Foundation's Fruit of the Vine Scholarship Fund.
"I want to be a traveling nurse," says Mariela, reflecting on her hopes for the future. Her choice of major—pre-nursing—reflects her broader ambition to serve and contribute. "I wanted to do something that would help people because I know that when I came here, I received so much help from so many people," she recalls.
Mariela's journey to college is marked by resilience and adaptation. When she moved from Pennsylvania to El Salvador, and then finally to Napa in sixth grade, language posed a significant challenge. She had to relearn English after forgetting much of it in El Salvador. But Mariela attributes her success in overcoming these hurdles to the supportive community around her. "It was hard, but I was thankful I had so many people surrounding me when I needed help, especially teachers or friends that said, 'We know Spanish so we'll help you with English'," she remembers.
Mariela's college dreams were first ignited in eighth grade by her teacher, Mr. Norris, who was also the first person to suggest she look into nursing. He encouraged Mariela to join the college preparatory class AVID, where she learned more about the options available for her future.
"I didn't really know about higher education because my parents hadn't gone to college. I thought that after high school, I was done with school. Mr. Norris told me AVID would expand my view on higher education and I remember my first year, I was surprised to see so many colleges out there."
The AVID program helped Mariela narrow down where she wanted to apply and how to navigate the application process. When the acceptance emails started rolling in, Mariela was overjoyed and relieved. "I was super excited when I found out I got into all of my CSU choices."
Mariela will be the first in her family to attend a four-year college directly from high school, a fact she wears with pride. She's following in the footsteps of her brother, who is enrolled at Santa Rosa Junior College. "He's telling me, 'Okay, you can't wait until the last minute to do your homework!'" she shares, laughing. "He also taught me how to find support in college and said there are programs, like Chico's Educational Opportunity Program. He said 'They always find a way to help you.'"
Another help is the scholarship she earned from NVCF's Fruit of the Vine Scholarship Fund, which she also learned about through the AVID program. As Mariela prepared for her 18th birthday celebration, she remembers getting the scholarship email, "I was so happy the whole day, I couldn't wait to tell my family," she says.
This summer, Mariela is working alongside her family at Piña Napa Valley, and she's connecting with her future roommate Andrea to plan her move to Chico. The reality of her impending journey is bringing a new wave of anticipation. "I'm a little excited but also nervous because I know that I will be moving out and going to a different atmosphere," she shares. "But I am excited to go see what's outside of the little town where I live and be able to be independent."
Mariela hopes to take that independent spirit with her in the future as a traveling nurse, and she can't wait to see more of the county. "Since I experienced traveling from a young age, I think it triggered me to ask, 'What is there outside of here?'" She adds, "I can't wait to go visit new places and make new memories."
Wherever she's going next, she's guaranteed to be doing it with a smile. When asked where she gets her energy and enthusiasm, Mariela's answer is simple: "Everybody always asks how I maintain my energy and enthusiasm. Sometimes, you just have to bring that energy yourself. I find a way."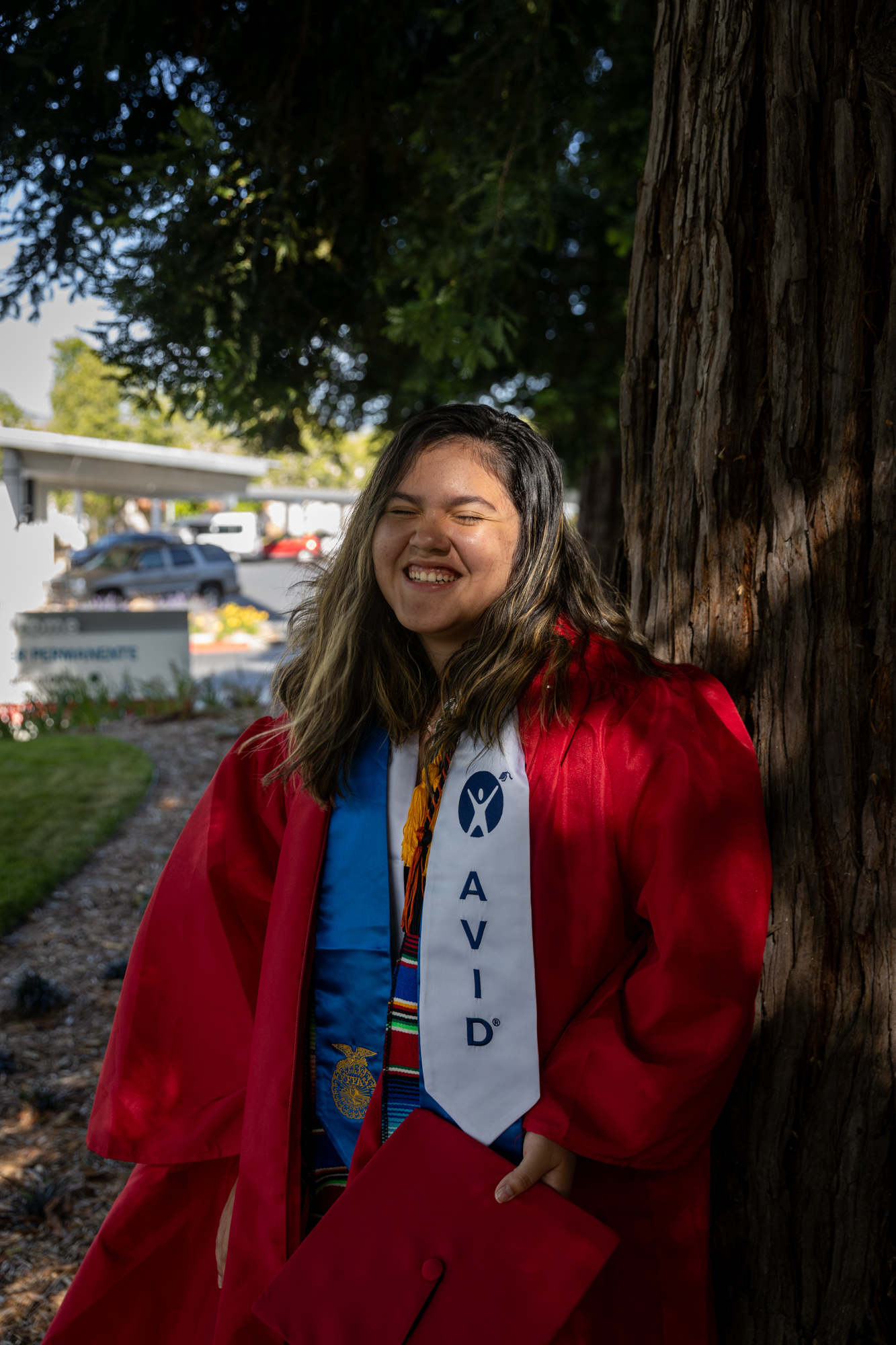 About Mariela
Name: Mariela Rivera-Moreno
Graduating from: St. Helena High School
Age: 18
College: California State University, Chico
Major: pre-nursing
She's looking forward to: settling in at Chico and getting to know the community