Araceli Nohek Cantera, an outstanding graduate from New Technology High School in Napa this summer, eagerly awaits her fall semester at the University of Southern California (USC). Bright and engaging, Araceli has a deep-rooted passion for making a positive change in her community. Her leadership roles as class president at New Tech High and as President of Mentis' Teens Connect Leadership Council testify to her commitment to this cause.
In the challenging year following the COVID closures, Araceli took the initiative to rebuild their leadership programs. "I started a Wellness Day event in my junior year, and taught kids how to run it so it can continue," she shares. To coordinate the event, Araceli connected with organizations such as Mentis, Planned Parenthood, Aldea Children & Family Services, and more. These groups visited their campus, offering students an opportunity to learn about various resources and volunteer opportunities. "The bigger schools host events like this more regularly, so we thought it would be cool to have one on our campus, too."
While her dual leadership roles at school and the Teens Connect Leadership Council kept her busy, Araceli also found time to join the Color Guard at the neighboring Napa High School campus. She credits her family's support in keeping track of all of her responsibilities. "I'm a planner," she says. "I have a really good support system at home. My family is right behind me. I was able to be as busy as I was because of them."
Araceli's leadership and dedication earned her Napa Valley Community Foundation's Changemaker Scholarship. This accolade is given to an exceptional graduating senior who attends a high school in Napa County and demonstrates drive, vision, and the potential to succeed. Recipients are rewarded with funding for up to four years of undergraduate study.
The Changemaker scholarship was established by a generous anonymous donor who shares, "The scholarship looks beyond a student's excellent academic record to consider everything a student has accomplished. Araceli's high school years showcase leadership, community involvement, and interest in outside activities, notably those focused on helping others. Her work as both the president of Mentis Teens Connect and class president at New Tech High demonstrates an incredible spirit to help others and to succeed. We wish Araceli a rewarding and worthwhile four years at USC."
Araceli, with her sights set on becoming an Occupational Therapist, also looks forward to her time at USC. "I've always known that I wanted to dedicate my life to help make someone else's better," she shares. Her experiences, including working at a preschool and shadowing a physical therapist and speech therapist, have fortified her decision to work with children. "I love to see people succeed and become able to do more. I think everyone's so capable, but sometimes they just need the tools to make it happen."
As a first-generation college student Araceli considers education a critical gateway to a brighter future. Her parents are excited to see her dreams coming to life. "It's what you want for your kids—for them to be a better version of yourself. I'm going to do better."
Attending USC is a stretch for Araceli and her family. The final piece of the puzzle fell into place when she received news of her Changemaker Scholarship. She had just visited the USC campus and was in love with it, but she needed to find out whether the financials would work out. The news arrived while she was discussing this with her teacher. "I was actually talking with my teacher about whether I would be able to go when I got the email about the scholarship," she recalls.
"It was, 'Oh my God, let me go call my mom!' And we started crying. It was, 'okay, this is actually a possibility, this is real. This is where I'm going to be for four years.' I was so, so excited. I was in shock."
Araceli is poised to embark on a promising journey at USC and beyond. Equipped with scholarships, financial aid, and an unwavering determination, she feels confident about her plan. "I can't express how grateful I am to be able to go to the University I'm going to. I'm incredibly grateful to my family for their sacrifices. The least I can do is make them proud—go to university, excel in my field. I have siblings and nieces, and while it may sound cliché, I'm genuinely excited to show them they can do it, too."
As we look forward to her journey ahead, there's no doubt that Araceli will make her mark, not just at USC, but in everything she sets out to do. Her drive to help others and improve her community is nothing short of inspiring. We're excited to watch her dreams unfold and become a reality.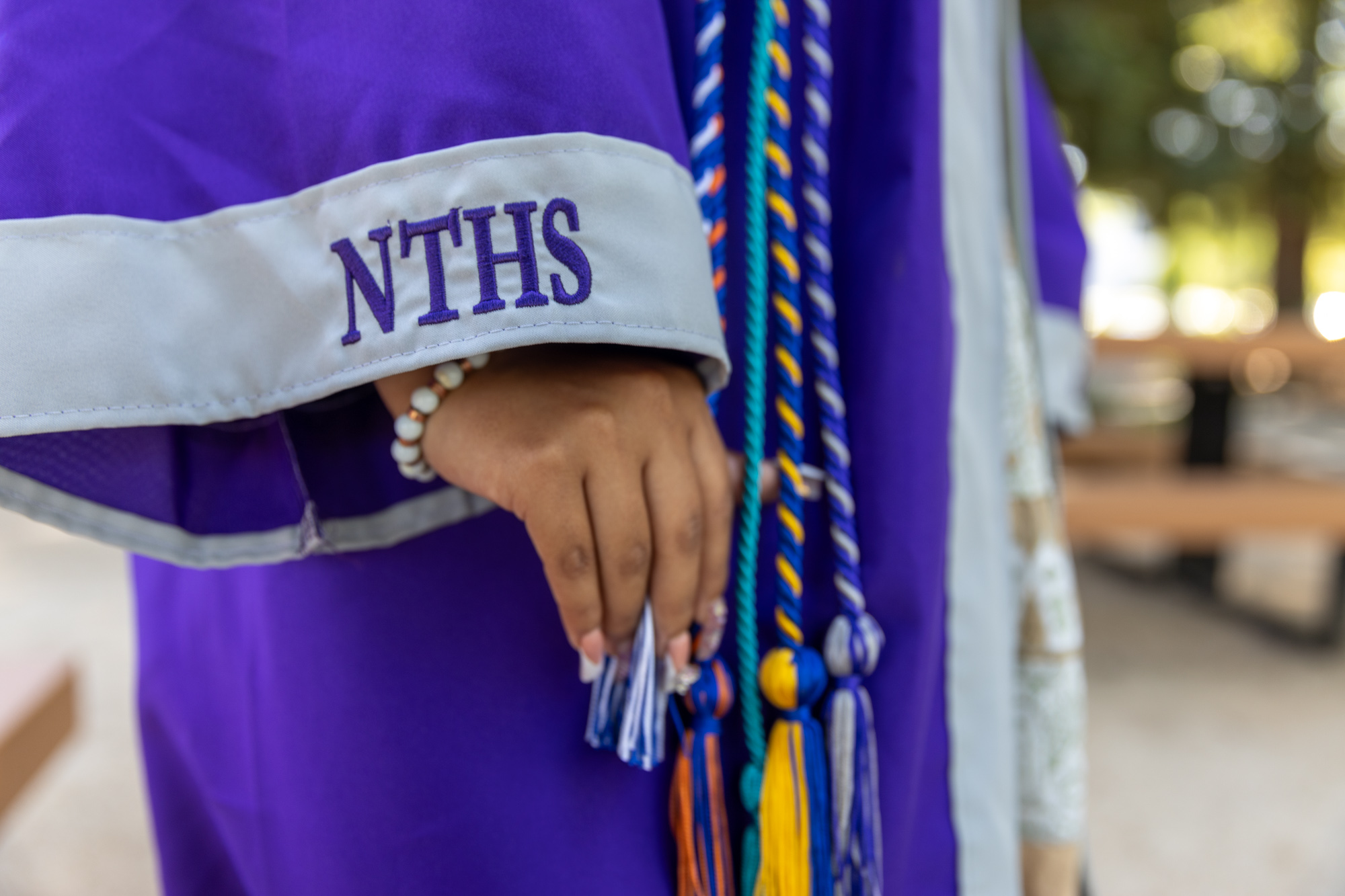 About Araceli
Name: Araceli Nohek Cantera
Graduating from: New Technology High School
Age: 18
College: USC
Major: Occupational Therapy
She's looking forward to: experiencing life on campus, and sharing her journey with her family